Activate™ by Remee, a wide selection of Powered Cable Solutions (PCS), is offered in response to the growing demand for Power over Ethernet (PoE) and the many powered cabling applications requiring distances beyond the limits of Category cables. The Activate™ By Remee PCS line includes a selection of standard and customized Category cables, a higher gauge Cat 6 PoE cable, utility Twisted Pair (uTP) cables, and Powered Fiber Copper Solutions – hybrid cable configurations for even longer distances when greater bandwidth is needed. They can be used indoors or outdoors in commercial enterprise Ethernet networks, Industrial Ethernet networks, and many other applications where a combination of data and power is required, such as wireless and wired home or building automation devices.
Activate™ by Remee provides a solution for any combination of need:
Large data with limited power
Little data with limited power
Little data with large power
Large data with large power
Benefits of PoE
Power over Ethernet (PoE) technology allows network cables to carry electrical power to devices and nodes, such as home automation devices, VoIP phones, wireless access points, industrial controls, network switches, LED lighting systems, surveillance products, media converters, PoE injectors, plus many others, with one Ethernet cable.
PoE cables allow the installation of remote or outdoor equipment without connecting to an AC power source, and power can be delivered to more areas without the need to install an electrical infrastructure and power outlets.  Other benefits include reduced installation costs, safety, responsive deployments, easy to make changes, greater data collection capabilities and improved productivity.
Go Beyond the Limits of PoE
The primary limitation of standard PoE cable is its limited distance from the hub or switch to the NIC of 100 meters (328 feet), which is the limit of the data signal, regardless of how far the power can reach.  To provide power over both PoE and extended distances,  we now offer Activate™ by Remee, featuring a variety of Powered Cable Solutions.  The new Activate™ by Remee PCS line features utility Twisted Pair (uTP) cables and Powered Fiber Cable Solutions. fiber optic and copper hybrid constructions which extend the signal distance much further and are compatible with a fast-growing number of devices.  Activate™ by Remee provides powered cabling for large-scale projects such as large buildings, government facilities, transportation facilities, campuses and more.
Cable Solutions for Any Data, Any Distance
The Activate™ by Remee PCS line includes:
Standard Category PoE Cables
Cat 5e for PoE (Type 1, 802.3af), carrying 15.4WPS
Cat 6 and Cat 6A for PoE+ (Type 2, 802.3at) cables, carrying 30WPS
These twisted pair Category cables include 24 AWG conductors, are offered with (STP) or without (UTP) shielding, and a Polyethylene or low-smoke and flame-retardant PVC jacket.  Some are available in Siamese constructions.  Category cables are CMR (riser), CMP (plenum) or OSP rated.  The OSP rated cables feature water blocking, direct burial and messengered versions.  These cables are well suited for PoE applications requiring up to 100W of power.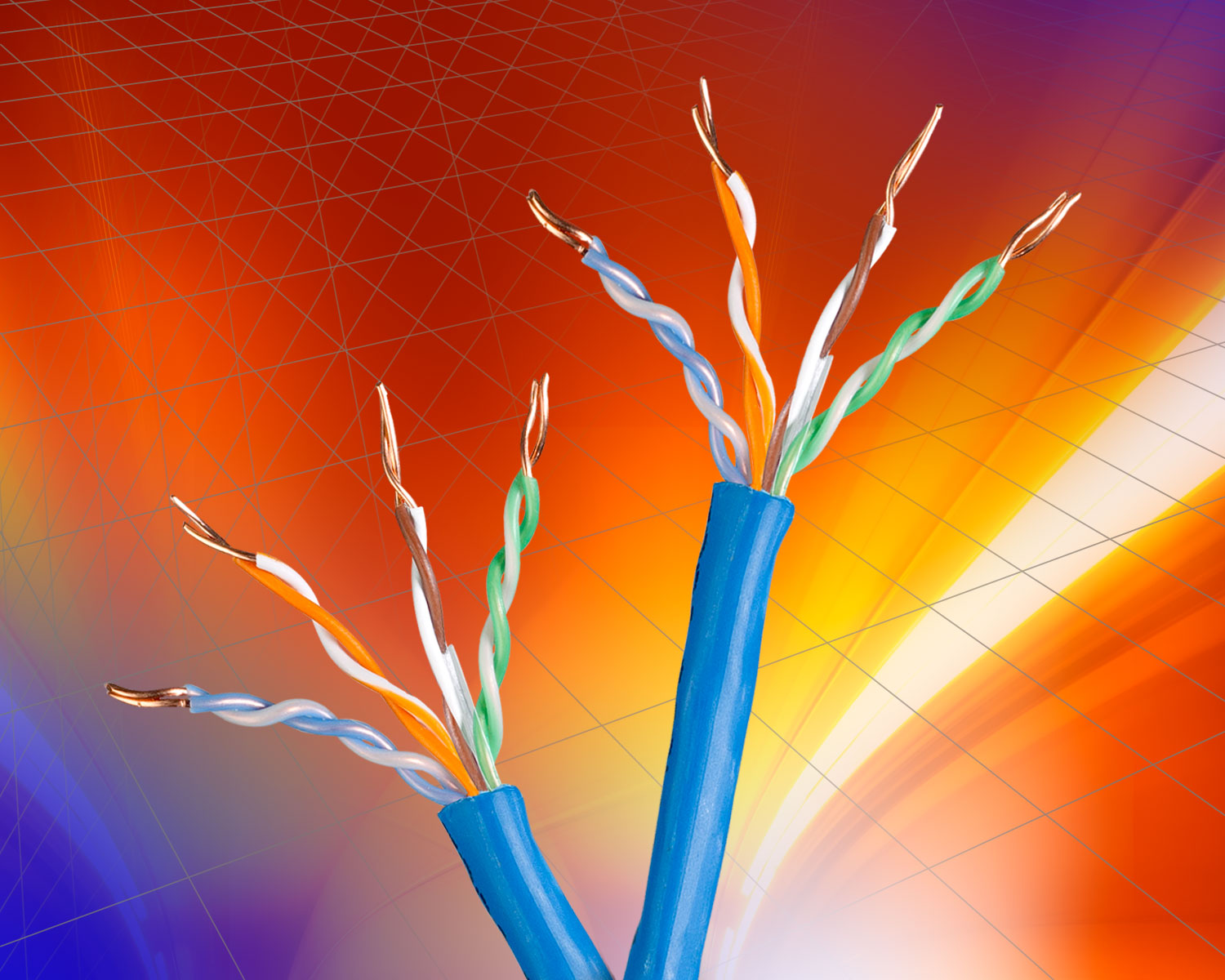 Cat 6 Limited Power for PoE++
Types 3 and 4, 802.3bt, carrying 60WPS or 100WPS
The larger 22AWG copper conductor carries power for a greater distance than standard Cat 6 cables
550 MHz, CMP-LP rated
The larger conductor carries power for a greater distance than standard Cat 6 cables and reduces performance issues caused by heat. It features improved insertion loss over the current Cat 6 industry standard, and increased ACR and PSACR performance.
This utility cable can be used for Digital Video, and is compatible with USB 3.1 SuperSpeed. It supports the growth of higher-wattage devices in the Internet of Things (IoT).
Part Number: 6BNS224LP5
uTP – utility Twisted Pair
Riser, Plenum, OSP and LSZH
Utilizes 21AWG copper to reduce performances issues caused by heat
Enhanced "headroom" allows for useable bandwidth at distances beyond 328 feet
Ultra-low loss, high speed dielectric
Supports building automation (BAS) and intelligent buildings (IBS) networked devices without the need for conduit in plenum spaces, at distances well beyond the EIA/TIA standards for Category cabling
Ideal for perimeter range security cameras (PTZ included)
Supports all digital video surveillance protocols including 4K Ultra HD
Digital Video, compatible with USB 3.1 SuperSpeed, supports the growth of higher-wattage devices in the IoT
This exciting addition to the Activate™ by Remee PCS line provides for more data/distance combinations than any other standard copper cable option. Truly a utility cable, the Activate™ uTP Cable can be used for limited bandwidth applications that need power delivered to locations that fall outside of the traditional Ethernet ring topology, such as:
Cameras, thermostats, PoE lighting, etc.
Higher wattage devices in the IoT
Industrial, factory floor
Part Number: ACT4P21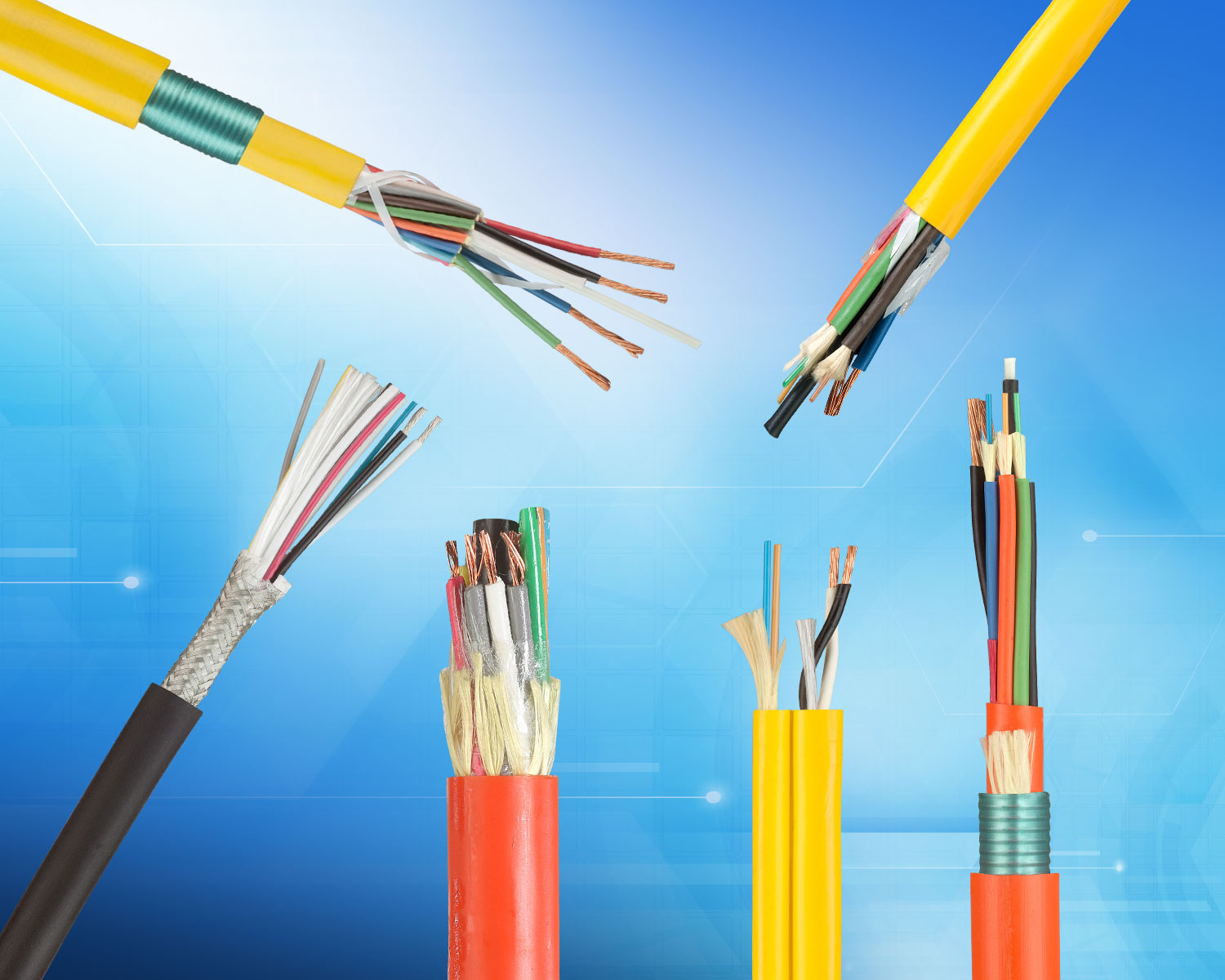 Powered Fiber Copper Solutions (PFCS)
Custom hybrid composite cable constructions
Copper: Bare copper stranded power conductors (10AWG to 24AWG)
Fiber: High performance Corning ClearCurve™or Prysmian
BendBright™optical fibers
Loose tube or tight buffer designs, with indoor and indoor/outdoor listings
Siamese hybrid cable constructions are also available
Remee's PFCS hybrid cabling solutions can be constructed under one jacket as a composite cable or paired together as a Siamese construction. PFCS cables are ideal for applications requiring extended distances with enhanced bandwidth needs, such as:
Passive Optical Networks requiring power for ONT's utilizing a power supply
Distributed Antenna Systems (DAS) requiring a large backhaul and a little power delivery
Cellular/5G micro-cell antennas that require a large backhaul and a little power delivery
Part Numbers: 40 Series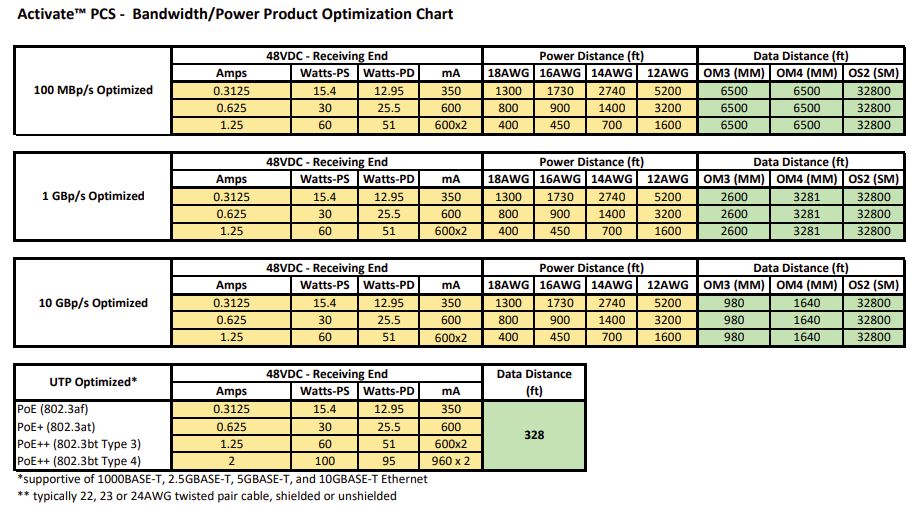 Selection Guide for Distance & Bandwidth
Remee has also created a helpful chart to assist installers and users in determining what PoE capabilities are needed for their specific application.  This useful chart displays the distance limits for various bandwidths, PoE iterations and cable types.
Standards & Certifications
Remee cables meet the applicable ETL and CSA requirements.  All Remee cable products are manufactured under ISO 9001 certification.
Modified Standard & Custom PoE and PFCS Cables
In addition to standard cables, Remee can modify or customize any PoE cable or design any hybrid cable construction to meet your application requirements.  Remee specializes in customizing cables by adding features such as:
Bundled, composite and hybrid cables
Jacketing & insulation options (material type and wall thickness)
Various shielding configurations
Water blocking – dry or with gel
Messengers
Armoring
Non-standard colored jackets
Optional striping
Other requirements you may have
Standard & Other Available Security, Alarm & Control Cables
Choose from the cable options in the Part Number Table below.  Most items are in stock, but check with Remee for availability.  Part numbers link to cable spec sheets.
Important Remee Features
Flexibility – Cables with stranded conductors provide high flexibility to ease installation in walls or ceilings; Remee uses only solid copper strands – no aluminum-coated copper
Stripability – REMGuard insulation is easy to peel or strip away from conductors
Interference Protection – All cables with foil shields include 100% coverage to prevent signal interference or degradation from egress or ingress
Water-Blocking – Water-swellable tape, water-blocking compounds or AquaLock™ dry tube technology are options at Remee to create a moisture barrier for direct burial or other applications where the cable is exposed to water or moisture
Bundling – Remee bundled and composite cables allow multiple signals to traverse over more than one cable under one overall jacket; this simplifies installation, with only one cable needing to be pulled for installation, rather than multiple cables
Jacket Options – Remee offers several jacketing options:

RemGuard Polymer jackets for plenum-rated cables with low flammability and low smoke
LSZH (Low Smoke Zero Halogen) jackets made of thermoplastic or thermoset compounds that emit limited smoke and no toxic halogen gasses

Ask us about other polyolefin compounds to suit your application
More Information on PoE
We recommend visiting this site for more details about PoE in general: https://www.versatek.com/what-is-power-over-ethernet/
Activate™ by Remee offers powered cable solutions for a wide range of applications, including, but not limited to:
BUILDING & HOME AUTOMATION
LED LIGHTING
NETWORK SWITCHES & DEVICES
WLAN ACCESS POINTS
INDUSTRIAL CONTROLS
MEDIA CONVERTERS
PoE INJECTORS
SURVEILLANCE CAMERAS
SECURITY ACCESS CONTROLS
DIGITAL SIGNAGE
SMART CLOCKS
VoIP PHONES
Warranties
Ask An Expert
Activate™ by Remee – Powered Cable Solutions
Standard Category PoE Cables
| Product Type | Product Description | Rating | Remee Part No. & Data Sheet |
| --- | --- | --- | --- |
| Category 5e | Category 5e 350MHz | CMP | 5BE244UTP/350 |
| Category 5e | Category 5e Shielded | CMP | 5BE234STP |
| Category 5e | Category 5e 350MHz Siamese | CMP | 5BE244UTP350DUAL |
| Category 6 | Category 6 550Mhz No Spline | CMP | 6BNS |
| Category 6 | Category 6 Shielded 550MHz | CMP | 6B234STPENH |
| Category 6 | Category 6 Dual | CMP | 6BE234UTPDUAL |
| Category 6 | Category 6 Enhanced 650MHz w/ Spline | CMP | 6B234UTPENH |
| Category 6a | Category 6a 500MHz – Small Diameter | CMP | 6UBRD234UTP |
| Category 6a | Category 6a Shielded 500MHz | CMP | 6UB234STP |
| Category 5e | Category 5e 350MHz | CMR | 5AE244UTPR |
| Category 5e | Category 5e Shielded | CMR | 5AE244STP |
| Category 5e | Category 5e 350MHz Siamese | CMR | 5AE244UTP/350DUAL |
| Category 6 | Category 6 550MHz No Spline | CMR | 6RNS |
| Category 6 | Category 6 Shielded 550MHz | CMR | 6RF234STPENH |
| Category 6 | Category 6 Dual | CMR | 6RF234UTPRDUAL |
| Category 6 | Category 6 Enhanced 650MHz w/ Spline | CMR | 6RF234UTPENH |
| Category 6a | Category 6a 500MHz – Small Diameter | CMR | 6UARD234UTP |
| Category 6a | Category 6a Shielded 500MHz | CMR | 6UA234STP |
| Category 5e - Direct Burial | Category 5e 350MHz Water Blocking Gel PE Jacket | OSP | 5AEFLD |
| Category 5e - Direct Burial | Category 5e Shielded PE Jacket | OSP | 5AE350STP/POLY |
| Category 5e - Aerial | Category 5e 350 MHz Water Blocking Gel w/ Messenger PE Jacket | OSP | 5AEFLDMESS |
| Category 6 - Direct Burial | Category 6a 250 MHz Water Blocking Gel PE Jacket | OSP | 6DBFLD234UTP |
| Category 6 - Aerial | Category 6 Water Blocking Gel w/ Messenger PE Jacket | OSP | 6DBFLD234UTPMESS |
| Category 6 - Direct Burial | Category 6 Shielded 250MHz PE Jacket | OSP | 6DB234STP |
Cat 6 Limited Power for PoE++
| Product Type | Product Description | Rating | Remee Part No. & Data Sheet |
| --- | --- | --- | --- |
| Category 6 Limited Power | Category 6 550MHz (22 AWG)- Limited Power | CMP-LP | 6BNS224LP5 |
uTP – utility Twisted Pair
| Product Type | Product Description | Rating | Remee Part No. & Data Sheet |
| --- | --- | --- | --- |
| utility Twisted Pair | 21 AWG, 4 Pair, Unshd | CMP, CMR, OSP, LSZH | ACT4P21 |
PFCS – Custom Powered Fiber Copper Solutions
| Product Type | Product Description | Rating | Remee Part No. & Data Sheet |
| --- | --- | --- | --- |
| Custom Round Hybrid | 40 Series Tight Buffer (4 fiber) 16/2 Unshld | OSP | 40-1200412NGB-216 |
| | | | |
| Custom Siamese Hybrid | 40 Series Tight Buffer (1 fiber SM OS2) 12/2 Unshld | CMP/OFNP | 40-3300176EYO-2C12 |
| Custom Siamese Hybrid | 40 Series Tight Buffer (1 fiber SM OS2) 18/2 Unshld | CMP/OFNP | 40-3300176EYO-2C18 |
| Custom Siamese Hybrid | 40 Series Tight Buffer (2 fiber SM OS2) 12/2 Unshld | CMP/OFNP | 40-3300276EYO-2C12 |
| Custom Siamese Hybrid | 40 Series Tight Buffer (2 fiber SM OS2) 18/2 Unshld | CMP/OFNP | 40-3300276EYO-2C18 |
| Custom Siamese Hybrid | 40 Series Tight Buffer (1 fiber OM3) 12/2 Unshld | CMP/OFNP | 40-3300112SAO-2C12 |
| Custom Siamese Hybrid | 40 Series Tight Buffer (1 fiber OM3) 18/2 Unshld | CMP/OFNP | 40-3300112SAO-2C18 |
| Custom Siamese Hybrid | 40 Series Tight Buffer (2 fiber OM3) 12/2 Unshld | CMP/OFNP | 40-3300212SAO-2C12 |
| Custom Siamese Hybrid | 40 Series Tight Buffer (2 fiber OM3) 18/2 Unshld | CMP/OFNP | 40-3300212SAO-2C18 |