With the increasing threat of climate change and overreliance on non-renewable resources, switching to renewable energy sources has become the focus of many different energy companies. However, the switch to renewable energy is no simple task and requires reliable hardware and equipment, like renewable energy cables, to maintain the new power sources. In this article, we discuss why the renewable energy sector chooses to use Renewables™ by Remee Wire and Cable.
Renewable energy currently accounts for about 20% of utility-scale electricity in the U.S. Wind power makes up more than 9%, and it is currently the largest type of renewable energy production. Solar accounts for less than 3%, but solar is the fastest-growing green energy technology in the U.S. Projections suggest that in 2022, wind and solar will make up more than half of new utility electricity production.
Not only are nations around the world making political efforts to stave off the worst effects of climate change, but economics and energy independence are also becoming driving forces that are accelerating the global transition to green energy. One thing's for certain: renewable energy is expanding, and wind and solar are leading the charge. We are likely to continue to see explosive growth in these industries.
Remee understands that harvesting wind and solar power takes more than just solar panels and wind turbines. It also requires a range of support hardware and equipment, including the right cables for the collection and transmission of harvested energy. This is why Remee created Renewables™ by Remee, a line of highly engineered renewable energy cables designed specifically for the renewable energy sector.
Wind Tower Cables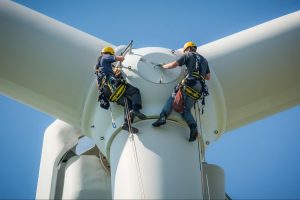 Have you noticed the giant wind farms popping up across the country? These giant towers harness the energy of the wind to create electricity. However, they can't run without specially made cables for wind towers. These renewable energy cables allow the wind towers to conduct energy back to the grid and make it available for use.
For various uses in wind power generation, Renewables™ by Remee offers green renewable energy cables for:
Cabling from the nacelle to intermediary collection points
Cabling from collection points to the substation
Blade grounding
Since the wind tower farms need to be outside in areas with high wind conditions, these components need to be durable and made to last. Wind tower renewable energy cables may encounter extreme weather, water, vibration, mechanical abrasion, and temperature extremes. In addition, some of the renewable energy cables may be direct-buried, where they must withstand groundwater, abrasion, and even attack from various plants and animals.
The Renewables™ by Remee line of renewable energy cables are designed and built with the demanding environment of wind applications in mind. Our product is made to become the industry standard of cables for wind towers.
Solar Power Photovoltaic Cables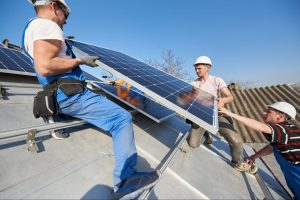 One of the fastest-growing types of renewable energy sources is solar power. Solar power farms are appearing around the world as they attempt to capture the energy of our Sun. To collect and conduct the energy captured, these solar panel farms need specific types of renewable energy cables, like the photovoltaic cables offered at Remee.
Photovoltaic cables, also known as PV wires, are a type of single conductor renewable energy cable used to connect the various panels within the solar panel grid. These solar panels are an electrical energy production system that captures sunlight to produce electricity by leveraging its energy conversion process.
Solar panels utilize copper DC Feeder PV cables which are strung together, resulting in a positive and negative PV cable at the end of the rows. DC Feeder PV cables carry the power generated from each row to the combiner box (input), which is then carried by aluminum Collection cables (AL Series) or copper Collection cables (CU Series) to the inverter, which converts DC current to AC current. The inverter is then connected to a transformer to step up the voltage (low to medium), where it ultimately terminates at the substation. Fiber optic cable is used for communication between motors and blocks of solar panels to a final data and/or MET station.
For solar power generation applications, the Renewables™ by Remee line of renewable energy cables and photovoltaic cables include:
Cables for connecting solar panels together
Cabling from panels to intermediary collection points
Copper or aluminum collection cables (medium voltage or MV) cables to transmit power to substations
MV cables comply with all applicable requirements:
ICEA S-94-649 – Standard for concentric neutral cables rated 5–46 kV
AEIC CS8 – Specification for extruded dielectric, shielded power cables rated 5–46 kV
UL1072 – MV90 and MV105 – Standard for MV power cables
CSA 68.10 – Shielded power cable for commercial and industrial applications rated 5–46 kV

What Makes Renewable Energy Cables Manufactured by Remee Different?
Remee excels in the renewable energy cables space because they consider the real-world demands on the products they make, and engineer every product to perform in the field. The result is renewable energy cables that deliver unparalleled performance in the green energy field. Renewables™ by Remee is a line of purpose-built green energy cables precisely designed and carefully crafted for many of the specialized applications essential to the installation of renewable energy technologies.
Solar Array Photovoltaic Cables
Solar array cables are made with copper PV wire rated at 2,000 volts. These cables feature cross-linked polyethylene jackets for durability both during the rigors of installation and in decades of service to come. This cable is available in both standard and extra flexible configurations to perfectly match your application.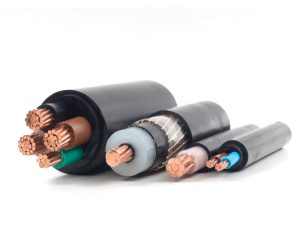 DC Feeder Cables
This cable is rated for 2,000 volts, installation in wet or dry environments, and -40°C temperature. The cross-linked polyethylene jacket is UV-resistant and is suitable for direct burial or installation in ducts.
Collection Cables
Both the Aluminum and Copper Medium Voltage (MV) Series are rated for 35 kilovolts. These lines are designed specifically for direct burial or installation in ducts. These cables are concentric-neutral cables with a semi-conducting shielding layer applied over the insulation.
Special features include tree-retardant cross-linked polyethylene insulation, which protects cables from tree and plant root penetration. They also feature a cross-linked polyethylene outer jacket for durability during installation and longevity in service.
All components of this cable are extruded simultaneously and dry-cured. The insulation is designed for easy stripping. Water-blocking yarn is used on all conductors, and water-swellable tape is applied over the insulation to eliminate groundwater infiltration. This all yields the highest quality collection of renewable energy cables in the industry.
Fiber Optic Cables
High-performance fiber optic cables are available to compliment your green energy installation. For control or network signals, fiber optic cables are designed for outdoor use in ducts or in direct-lashed installations. These cables feature:
High modulus polymeric buffer tube
Epoxy glass rod dielectric central strength member (up-coated as required per construction)
Cable elements with water-swellable yarns stranded around the CSM, using reverse oscillation
Water blocking tape applied over the cabled core with a 25% nominal overlap
Circumferential strength members placed over the water blocking tape and under the outer sheath
UV-resistant polyethylene sheath with a ripcord applied underneath.
Bare Stranded Copper Ground Wire
For grounding applications in vibration-prone installations or where high flexibility is required, bare-stranded copper wire is available in standard sizes on request.
The Best Renewable Energy Cables Available
When you need the most reliable renewable energy cables available on the market, then you need to contact the experts in renewable energy cables. Whether you need cables for wind towers or cables for a solar farm, you can find them all at Remee Wire and Cable.
Renewables™ by Remee is the best option in renewable energy cables. We've manufactured products for all the wire and cable needs of the green energy sector. As a result, the renewable energy industry turns to our products to address their unique demands. As a leader in specialized cable manufacturing, Remee has taken this design focus through the manufacturing process, as well.
Remee Wire & Cable is a world-class manufacturer of electronic wire and cable, including renewable energy cables. You can get just about any renewable energy cable you need from Remee – standard, modified standard, and custom engineered, including complex designs – with the most flexible service terms to meet your special needs.
Remee provides the customer care and quick decision-making normally associated with a small cable company. Yet, Remee is among the top wire and cable manufacturers, large enough to manufacture a huge selection of quality fiber optic and copper cables, and modified standard and custom-engineered cables, including a unique capability to provide complex cable constructions.
Now, you know why the renewable energy sector chooses Renewables™ by Remee as the industry standard. To check how our renewable energy cables can meet your needs, ask an expert from Remee today!