Single-Pair Ethernet (or SPE) wiring applications represent one of the most exciting product growth cycles in the new era of smart manufacturing. But what exactly is single-pair ethernet, what are the benefits of single-pair ethernet, and what industries can take advantage of them?
As data networks have grown in size, speed, and complexity in the past few years, so too has the use of single-pair ethernet connections. This has led to a fast-growing market. Research and Markets estimate that the market for single-pair ethernet is expected to rise to $3.6 billion by 2028 from $1.9 billion in 2021.
This heightened interest in single-pair ethernet is driven by a number of factors. Read on to learn exactly what these factors are, the benefits of single-pair ethernet, and how single-pair ethernet cables could be used as your next custom wire component!
What is Single-Pair Ethernet?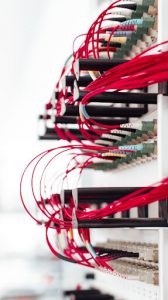 To understand why single-pair ethernet is currently all the rage, you have to understand on a technical level what single-pair ethernet is. Single-pair ethernet is a relatively new cabling connection process that provides high-speed connectivity and power through only one pair of conductors.
Until recently, the standard solution was two pairs of copper wires in order to achieve Fast Ethernet (100 MB/s) in industrial applications. While two pairs are fewer than conventional Ethernet data service of 4-8 conductors for maximum connectivity, it still has more physical space than the comparatively tiny single-pair ethernet cabling.
Single-pair ethernet cables provide power without interfering with data by utilizing PoDL (Power over Data Lines). Because less cabling is required with PoDL, it diminishes the costs related to the overall size and price of equipment.
Benefits of Single-Pair Ethernet Cable
More organizations are seeing the benefits of single-pair ethernet and leveraging it to advance the Industrial Ethernet infrastructure. The benefits of single-pair ethernet include:
Higher speeds over longer distances (up to 1Gbps in 40 meters and 10 Mbps across 1,000 meters)
Power transmission up to 50 watts
Ever-increasing adoption across a wide range of industries
Easy retrofit integration and installation within existing systems
Interchangeable and pluggable M8 and M12 connector interfaces that meet the standard M2I2C2E2/M3I3C3E3
Decreased equipment, material, and labor costs
Single-pair ethernet for the IIoT promises improved efficiency from harnessing real-time manufacturing data, more robust capabilities with higher data speed, and faster, more reliable communication to field-level devices. Overall, the increased use of single-pair ethernet will help advance industry needs and boost operational efficiency for manufacturers across nearly every manufacturing sector.
To get the right single-pair ethernet cables for your specific application, trust an industry leader in cables— Remee Wire & Cable. Whether you need custom-designed cables, complex cable design work, modifications to standard cables, or other forms of application engineering, Remee has you covered.
As a full-line cable manufacturer, Remee provides engineered solutions with copper and/or fiber optics for security, LAN, premise wiring, home automation, audio, fire alarm systems, and powered cabling applications. Whether your interest is in standard single-pair ethernet or a combination of custom cable services, Remee can supply it.
Emerging Uses for Single-Pair Ethernet Cable
All the excitement around single-pair ethernet has even inspired the formation of a group, the SPE Industrial Partner Network, to promote the use of single-pair ethernet and create new standards around cabling requirements, device components, and transmission protocols as single-pair ethernet becomes more widely used.
While traditionally used in the automotive industry (and still is), the future trends of single-pair ethernet cable and its benefits have been the drivers to adopt this cable for use in various industries.
As single-pair ethernet technology evolves, elements of its use are being found in the automotive industry. For example, the Wiring Harness Manufacturers Association also states it is expanding into advanced manufacturing, industrial, internet, building, transportation, and robotics automation.
1. Automotive Industry Applications for Single-Pair Ethernet Cable
Single-pair ethernet was originally used in the automotive industry. Automakers began using the smaller, lighter single-pair ethernet cables around 2015 to transmit data from all the wireless sensor networks used in today's modern cars. Using single-pair ethernet application options helped automakers to achieve the lower data loads required in automotive applications.
2. Utilizing Single-Pair Ethernet Cable in Manufacturing
Many equipment and device manufacturers that utilize small sensors in their products are turning to single-pair ethernet cable to transmit data. By using single-pair ethernet cable, data is acquired faster, letting manufacturers interpret this data to implement more efficient internal processes throughout the supply chain sooner.
3. Industrial Ethernet Switches Use Single Pair Ethernet Cable
Single-pair ethernet is becoming an emerging trend in industrial tech by allowing the creation of wireless sensor networks (WSN). Used in both industrial warehouses and commercial scenarios, single-pair ethernet cable is implemented in actuators, industrial ethernet switches, and edge devices like programmable logic controller (PLC) sensors. This growing adoption of single-pair ethernet is likely to hasten the movement toward fast, easy plug-and-play setups in smart buildings and automated warehouses.
4. How the Internet Benefits from Single-Pair Ethernet Cable
In recent years, single-pair ethernet cable applications are being found all across the IIoT. Single-pair ethernet's ability to transmit power up to 50 W along with data makes it ideal for use in IIoT applications, including fast, real-time communication in field devices and cloud platforms. This is leading to advances in AI as data systems can rely on information being delivered faster and easier.
5. Innovative Building Stays Green with Single-Pair Ethernet Applications
When constructing buildings, the current trend focuses on how to make them as "green" as possible. To have buildings be as energy efficient as possible, many different sensors are required.
Examples include lighting, temperature, occupancy, and humidity sensors to name a few. While small, these sensors all require power through cabling and the number of sensors required for larger builds is typically in the thousands. Single-pair ethernet allows the amount of cabling required to be reduced, further decreasing project costs as well.
6. Single-Pair Ethernet Powers New Transportation
Think of it this way: the more something weighs, the more power it takes to accelerate and slow down. The more power needed, the more fuel is also required, driving costs up and increasing the output of fossil fuels.
For railway systems, lines of train cars create a considerable amount of weight from their own structure and the miles of cabling needed to properly connect to the sensors between them. Single-pair ethernet allows for the overall weight to be greatly reduced, allowing for more efficient transportation, and decreased costs.
7. Robotics Utilize Single-Pair Ethernet Cable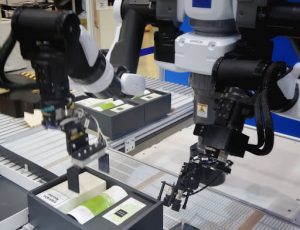 Industrial robots place high demands on cables and other supply lines as the robot repeatedly fulfills its task. Several parts are in motion at once as cables twist and turn several thousand times during full operation.
To increase the lifetime of each robot, a thinner single-pair ethernet copper conductor is used, causing less deformation, better connectivity, and lowering depreciation value. With better connectivity as well, AI can now be incorporated into a wide range of robotics, utilizing their improved automation from single-pair ethernet cables.
As it is clear to see from the seven uses listed here, single-pair ethernet, along with other custom cable systems, provides an easier alternative for improved installation, performance, and cost across many applications and industries. You can see what other powered cabling solutions Remee provides in our recent blog for longer-distance powered cable runs.
Remee Offers High-Quality Single-Pair Ethernet Cable for Power over Ethernet
As Power over Ethernet and single-pair ethernet have continued to garner increased use, Remee has made sure to adapt and offer the right products to support our client's changing needs.
Typically, the primary limitation of standard Power over ethernet cable is that it can only be a limited distance from the power hub to the NIC of 100 meters (328 feet.) This in turn limits the data signal, regardless of how far the power may be able to reach.
Remee's solution to both Power over Ethernet and extended distance applications is the Activate™ line by Remee, featuring a variety of Powered Cable Solutions (PCS). The new Activate™ PCS line by Remee features utility Twisted Pair (uTP) cables and Powered Fiber Cable Solutions (PFCS), among others. Activate™ by Remee provides powered cabling for large-scale projects such as large buildings, government facilities, transportation facilities, campuses, and more.
Check out the Activate™ line by Remee performance results when tested for quality by Intertek. We are here to help – ask a Remee expert about your application!
Rely On Remee for Your Single-Pair Ethernet Cable Needs
If you've ever wondered, "what does SPE stand for?", now you know! As a wire and cable industry leader, Remee remains committed to being an expert with all the products we offer and sharing that knowledge with our customers.
With Remee as your provider, we are here to manufacture whatever you may need for your single-pair ethernet cable project. We supply standard, modified standard, custom-engineered, and complex designs, all with amenable service terms to meet your specific requirements.
Our experience and manufacturing capabilities allow us to provide you with a more unique cable experience – whether or not single-pair ethernet is your current need. Get in touch with NAI's knowledgeable experts today and let us show you the Remee difference!