The GRIDSMART SOLUTION, part of Cubic Transportation Systems, adopted the Activate™ by Remee Copper/Fiber Composite Cable for use in its highly advanced SMARTMOUNT2025 traffic intersection control system.
The GRIDSMART SOLUTION provides state-of-the-art traffic management, allowing municipalities and other users to upgrade their systems from existing buried inductive loops or the use of PoE cables to the camera.
The Problem Brought to Remee: Distance & Interference
The GRIDSMART SOLUTION used a Cat 5e PoE cable between their bell camera and the processor in the traffic control cabinet.
While this PoE cable provided a means to deliver data and power the camera, a Category cable can only run 328 feet before a repeater is required. The repeaters were typically located below ground, making them susceptible to water penetration issues, and these were points of vulnerability for signal performance.
The Category cable was also susceptible to EMI with power lines that were often positioned near traffic intersections, radio signals, and lightning.
Remee's Solution: Activate™ by Remee PFCS:
Cubic Transportation Systems looked at several options for the GRIDSMART Solution and chose Activate™ by Remee with its Powered Fiber Copper Solution (PFCS) to cable their best-in-class system.
This composite cable allowed The GRIDSMART System to run data at longer lengths and eliminate the use of repeaters. Similar to the Cat 5e, the Activate™ by Remee cable required only one cable pull, saving installation time.
The cable solution for SMARTMOUNT2025 included four 3.0mm aramid-reinforced tubes of OM3 multimode fiber – two fibers carrying the signals and two for redundancy.
In addition, two 16 AWG copper conductors were used to power the camera and were cabled, along with the fibers, in an overall composite construction. This rugged cable was designed to withstand the rigors of outdoor use.
"Activate™ by Remee Provided a Solution for Installations with Distance, Interference and
Performance Issues."

– Tracy Nelson, Hardware Engineering Director, CUBIC | GRIDSMART
The Benefits of Activate™ by Remee
Activate™ by Remee was chosen for the features and benefits it provided over other options reviewed. Remee Wire & Cable continues to think outside the box and provide solutions to large-scale powered cabling projects. The benefits that the GRIDSMART SOLUTION achieved by using Activate™ by Remee PFCS composite cable for SMARTMOUNT2025 included:
More reliable communication
Elimination of noise interference and EMI from nearby power lines, radio signals, lightning, and even cosmic noise
Fewer points of failure than in the traditional Ethernet system
Runs up to 2,000 feet without repeaters, requiring less space
Why Remee?
Remee Wire & Cable was chosen to supply SmartMount 2025 systems because:
The GRIDSMART SOLUTION management team was comfortable with Remee's experience and expertise in pairing copper and fiber optic cables
Remee's response time and feedback were very quick
The lead time was very good and deliveries have been on time
The GRIDSMART SOLUTION management team felt that
Remee's philosophies and culture were in sync with theirs
The GRIDSMART SOLUTION management team also had a positive experience working with Remee's distributor
Remee could design and manufacture a custom cable to meet the specific application criteria
What Is GRIDSMART?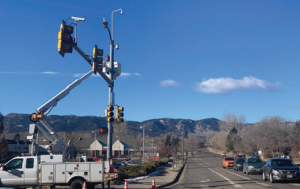 GRIDSMART is the industry's first fiber solution for intelligent transportation systems. A composite cable designed to withstand the elements, eliminate repeaters, and run data at longer lengths, it was adopted by Cubic Transportation Systems' GRIDSMART high-tech SMARTMOUNT2025 intersection control system.
Cubic Transportation Systems prides itself on using state-of-the-art equipment and components for its SMARTMOUNT2025 system. This best-in-class solution features advanced image processing, computer vision modeling, and machine learning, all with a single-camera solution.
One of the visions behind the GRIDSMART SOLUTION is to improve one billion lives. The company is well on its way to achieving this goal with over 300 billion vehicles monitored in 29
countries and 1300 communities, including 49 states in the U.S.
The GRIDSMART SOLUTION can easily claim that it…
Delivers real-time data to traffic professionals
Makes traffic safer and more efficient
Improves situational awareness and reduces urban traffic congestion
Optimizes the flow of traffic and people through intersections

For more information about the GRIDSMART SOLUTION, go to www.gridsmart.com
"We were very comfortable with Remee's experience in pairing copper and fiber under one jacket."

– Matt King, Senior Product Operations Manager, CUBIC | GRIDSMART
Powered Cable Solutions for Any Distance: Activate™
The Activate™ by Remee PCS line features utility Twisted Pair™ (uTP™) cables, PowerPipe™ Distribution Cables, and Powered Fiber Cable Solutions (PFCS). The latter are fiber optic and copper hybrid constructions which extend the signal distance much further and are compatible with a fast-growing number of devices.
Activate™ by Remee provides powered cabling for large-scale projects such as large buildings, government facilities, transportation facilities, campuses, and more.
Use Activate™ by Remee for any power/data combination to reach the end run you need:
Large data & limited power
Little data & limited power
Little data & high power
Larger data & high power
For a look into more product information on Activate™ download our brochure.
Work With Remee Wire and Cable For Your Next Project
Remee Wire & Cable is a world-class manufacturer of electronic wire and cable, including both copper and fiber optic cables, which are engineered with you in mind. Remee provides you with the highly personalized service and care you deserve. For the last 50 years, Remee has provided many installed cable solutions for different industries and organizations.
Remee Wire and Cable understands that the key to their success is to help their customers succeed. They offer their American-made products at competitive prices and the great customer service of a family-run company as well.
Remee provides customer care and quick decision-making normally associated with a family-run cable company. Yet, Remee is among the top wire and cable manufacturers, large enough to manufacture a huge selection of quality fiber optic and copper cables, and modified standard and custom-engineered cables, including a unique capability to provide complex cable constructions.
To check how our products can meet your needs, ask an expert from Remee today!
Sign up for our biweekly E-newsletter for industry news, application tips, product announcements, and more!