The world of today looks a lot different than it did a few years ago, and that includes the way we protect and enable our homes and businesses, which are made possible through custom security cables.
These days, everyone wants to be able to connect every aspect of their life to their Smart devices. Whether this means adjusting the temperature of their homes or buildings, locking the front door from another state, or checking their security cameras while out, people want to be able to manage their homes and business while on the go.
Early on, Remee Cable recognized the increasing scope of Internet of Things (IoT) applications and the increasing reliance on remote access. They realized there would be an increased need for the security cables that carry all of that data.
Plus, due to the technology age we live in today, Remee knew that this was a trend that was here to stay. So, they designed and manufactured security cables that could meet the ever-growing demands of all Smart devices and the people and businesses who use them.
Why Industry Depends on Security Cables to Support AI
This drastic increase in the number of connections being made at any given moment has led to a huge need for unique use and applications of security cables like Vigilance™ Security, Alarm and Control Cables from Remee Wire and Cable.
Of course, personal use is not the only reason for people to be in search of seamless communications with remote items or individuals. Numerous companies spanning multiple industries are utilizing the seamless communication that Smart devices and AI provide. From construction to e-commerce and medical sales, businesses need to be able to communicate in the most efficient way possible.
Take retail for example. With warehouses, suppliers, and management teams positioned on a national or global scale, clear communication can be difficult to implement. Thankfully, tracking inventory, schedules, demand, and performance can now be done from a single location in real time through Smart devices. However, for all of this to happen, safe and dependable security cables must first be in place.
Cables need to be durable to hold up longer, carry more data at a faster rate, and meet the evolving specifications of new technologies. We cover more about the future of home automation cables in another recent blog, The Future of Home Automation Control and Digital Signaling Cables.
Meet the Vigilance™ Security Cables Line
Our Vigilance™ Security, Alarm and Control Cables help make the homes and businesses of the future safer and more secure today! In our current society, most homes, offices, and even cars, have a personal AI assistant like Google or Alexa. These personal assistants are only made possible through home and automation cables that support this technology.
Remee's solution to the challenge of offering secure and rapid transfer of data was their Vigilance™ line of cables. Adaptable and secure, the Vigilance™ Security line of cables was created by the great minds at Remee Wire & Cable.
Through our innovation and custom engineering, our automation cables meet the demands of the home, office, factory and more. We provide solutions for our client's needs from automation and security cables, to other control and alarm cables. With the custom design options of our Vigilance™ security cable line, we can meet even the most unique customer requirements.
Vigilance™ Security, Alarm & Control Cables is a fully designed security line from Remee. There are several types of cable in the Vigilance™ Line, each with distinct attributes designed to meet the specific demands of that application.
Vigilance™ Security Cable
Available in shielded and unshielded versions, these members of the Vigilance™ cable lineup are designed to handle most security applications. Available with either Plenum Polymer insulation or (for more flexibility) PVC insulation, these hybrid cable options offer secure and reliable connections. These security cables are also available in water-blocked versions so they can be used in direct burial applications.
These security cables are great for homes, offices, and even industrial sites. Anywhere that you need reliable security, you can rely on the Vigilance™ security cable options. Speak with one of our experts about custom security cables today!
With Vigilance™ security cables, you can set up a variety of security systems that keep your property and belongings safe. You can rest easy knowing that your security system relies on Vigilance™ security wires.
Vigilance™ CCTV and Alarm Security Cables
Need an alarm system or camera system to protect your home or business? Then you need a system that uses Vigilance™ CCTV and alarm security cables.
In order to be effective with your security, Vigilance™ is truly key. Remee offers a wide selection of RG59/U Composite Video coax security camera cable types. These security cable alarms and CCTV connections must be able to handle high-speed data transfers and remain secure even in adverse conditions.
The Vigilance™ line includes security camera cable types that are specifically designed to meet that increased standard in security system needs. The alarm and CCTV security cables offered by Remee consist of composite cables available in either Plenum-rated or Riser-rated versions.
Another added benefit of the RG59/U Composite Video coax cables is that they come with braid shields to prevent susceptibility to interference, as well as Siamese security cable versions that allow for an extra power pair. These video security cables can also be provided with water-blocking tape.
Interested in CCTV and Alarm cables for your next project? Check out the latest innovations in CCTV and surveillance cables to determine which one you might benefit from using!
Vigilance™ Standard Fire Alarm Cables
Safety is critical, and you need to make sure that your home, office, or industrial building is protected against the threat of fire.
This cable series is available in either Plenum-rated or Riser-rated versions. For the Plenum-rated fire alarm cable selection, Remee offers their 760 Series fire alarm, and the security cables feature solid conductors in 18 to 12-gauge sizes, rated FPLP.
Meanwhile, the Riser-rated fire alarm cables are offered in Remee's R00 series, featuring solid conductors in 22 to 14-gauge sizes, all rated FPLR. Having had a long history as a provider of fire alarm cables for New York City, Remee today provides a full line of fire alarm cables that meet the latest stringent codes set by the NY Local Law 39.
All automation, fire alarm, security, and control systems are continuously changing. New trends in the fire detection and suppression industry have increased the need for new detection devices that also rely on Smart technology.
Vigilance™ Lighting and Shade Control Cable
Designed to be used with automation control systems, these LUG and LUQ series of bundled cables include both a data component and a power component. They are compatible with many automation systems, including Lutron, AMX, Elan, and Control 4.
These cables are available in several AWG sizes and in a variety of configurations. Data pairs are shielded. The end result is a cable that meets your exact automation control system's needs in almost any environment.
Vigilance™ Access Control Cables
This part of the Vigilance™ line of security cables was designed to meet the specific needs of access control systems using OSDP (Open Supervised Device Protocol), Wiegand, and BACnet ( the communication protocol used by Building and Automation Control networks).
These composite security cables are available with Remguard Plenum Polymer (CMP) or PVC (CMR) jackets, shielded and unshielded options, and water-blocking tape as well to make them usable in wet locations.
What are OSDP and Wiegand Technologies?
When it comes to evolving access control systems and technologies, two standard names in the industry are OSDP and Wiegand. Here's some quick insight into the two and why they matter.
OSDP Security Cable Access System
Open Supervised Device Protocol (or OSDP) is an access control communications protocol that allows two-way communication. Creating an audio-visual system with only two wires, OSDP is a cost-effective solution to creating a secure access connection.
Extremely user-friendly, OSDP has a simple installation process that allows it to connect with pre-embedded systems and can be used in Internet Protocol (IP) environments. OSDP's operation capabilities actually extend even further when OSDP over IP is released. OSDP is rapidly replacing legacy Wiegand based communications.
Weigand Access Control System
Wiegand is also a protocol used in more legacy access control applications. It is most commonly found in sensors, card readers, and fingerprint readers. and other data-capturing devices. A one-way access control system, Weigand can communicate reader-to-control up to 152 meters.
Choose OSDP for Your Access Control System
When the benefits outweigh Wiegand, you know OSDP is the choice for future installations. With OSDP, you're choosing an AES-128 high-end encryption, functionality up to 1,200 meters away, and a less expensive installation.
You can learn more about both technologies in our recent blog, OSDP Access Control Technologies and Wiegand.
Evolving OSDP and Weigand technologies are great examples of high-quality access control systems, and making sure you choose the right access control security cable is important. Follow Remee's guide if you need help in specifying or buying access control cables.
Exclusive Benefits of Custom Security Cables from Remee
As an industry leader, Remee has learned what exactly makes security cables stand out above the rest. Customizing the security cables that we offer with added components allows us to meet your exact cable needs.
Top Security Cable Features from Remee
Unique Remee security cable features include:
Stranded conductors for increased flexibility
PVC and LSPVC jackets for increased strip ability
All cables with foil shields receive 100% coverage to decrease signal interference
Water-blocking tape option to provide a moisture barrier
Simplified installation through cable bundling
Several jacket options to increase durability and longevity
Remee ensures that our partners receive a custom security cable that has all of the unique features and benefits of the latest security cable designs.
Customization for the Best Security Cables
While Remee provides a selection of security cables with custom details, our service doesn't end there. If you need your security, alarm, and control cable options customized even further, Remee can provide modifications to the following standard cable features:
Jacket materials (PVC, RemGuard Plenum Polymer, LSZH)
Incorporate additional devices to the Vigilance™ Access Control Cable
Stranded tin copper conductors
Conductor sizes (from 25 AWG to 12 AWG, solid or stranded)
Oxygen-free copper
Different shielding configurations
Non-standard colored jackets for circuit identification
Plenum jacketing on non-standard cables
Specialized bundled security cables
When we say customer service is our top priority, we mean it. Here to work with you, Remee truly is the best for any and all custom cable services.
Remee Security Wire: Award-Winning Cable Innovation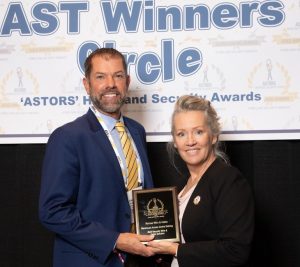 In 2021, Remee Cable was awarded the ASTORS Homeland Security Award for Best Security Wire and Cable Solution for their successful and innovative access control cabling solutions. While they are proud of the award, they are even prouder of the work that was done and the work that will continue to be done to provide new and advanced solutions to their customer's ever-changing cabling needs.
While Remee is an award-winning security cable partner, we can assist with all your cabling needs. We're a one-stop-shop for cables, and that includes custom cable services. We offer the latest technologies, from R&D projects to high-volume orders for large-scale installations. Remee can provide you with security cables for any project.
We follow the latest technology innovations to keep up with industry trends and requirements and help move the technology forward. Only Remee provides our customers with unrivaled cable manufacturing agility, quality, and economy.
Contact the Leaders in Security Cable Innovation
Whether with our Vigilance™ line, or our Automation, Ethernet, or other cable lines, Remee is here to help. Get in touch with Remee today to learn more about how we can help take your business into the future with our unique uses and applications of security cables.
We're here to help you create the best security cables for your project!