Since the development of the Wiegand technology 40 years ago, security solutions have undergone a bold evolution. The past several decades witnessed an impressive transformation in security and access control technologies. Some of the solutions that have emerged in the field include:
Wiegand
BACnet
OSDP — short for Open Source Device Protocol
This rapidly developing technology has had a profound impact across the security sector, particularly in areas related to applications such as:
Alarm systems
Access control door lock systems
Emergency access control
Burglar alarms
The evolution of today's OSDP access control technologies, access control wire, and cable, including Remee's Vigilance™ line, are explored below.
Evolution of Security — From Wiegand to BACnet and OSDP
Over several past decades, security technology has evolved considerably. Development companies made huge strides — from Wiegand in the 1970s to BACnet in the 1980s and OSDP access control technologies in 2011.
Today, Remee Wire & Cable keeps you up-to-date on all your wire and cable security needs with Remee's Vigilance™ line of Security, Alarm, and Control Cables.
What Is Wiegand?
The Wiegand technology, developed in 1975, was regularly featured in building card readers as an added level of security. One benefit of the then-novel Wiegand technology was the ability to run long cables from the access control panel to the card readers. Specifically, the Wiegand interface allowed cable runs of up to 150 feet — significantly longer than other interface standards of the time.
The Wiegand interface operated on a binary system that uses zeroes and ones to communicate information in a one-way information feed. It employed three types of wires: one as a common ground and one each to send zeroes and ones.
The Wiegand communication protocol was originally limited to only 26 bits of code, Later, the size limitations of the actual card enforced a maximum of 37 wire filaments, translating to a maximum of 37 bits of code before misreads render the product unreliable.
A 37-bit code length is unimpressive by today's security standards. Additionally, the information transmitted via Wiegand is not encrypted, and thus, it is not entirely secure, leaving a window for attack. This window of insecurity is considered a major risk. It's also augmented by the fact that older or preexisting Wiegand Systems are not always compatible with current or new Wiegand systems. This lack of compatibility between older Wiegand systems and new Wiegand systems can prove frustrating for integration.
Over time, Wiegand protocol components became increasingly vulnerable to security breaches. Consequently, the need for improved access control security fueled the development of technologies such as OSDP access control technologies to replace Wiegand.
What Is BACnet Protocol?
BACnet is a communication protocol developed for Building Automation and Control Networks. It is particularly used for communication between building automation services and applications systems such as:
HVAC — or heating, ventilating, and air conditioning control
Lighting control
Access control
Window shade controls
Fire detection systems and associated equipment
BACnet is a leading building automation and control standard worldwide. Regardless of the particular building services performed, BACnet allows computerized building automation devices to exchange information.
BACnet is also compatible with Wiegand and OSDP, which takes its utility beyond its original scope of HVAC control into the world of physical access control systems (PACS) and security.
What Is OSDP Access Control?
OSDP is used to link together access control systems. Although Wiegand offers one-way communication, OSDP readers are significantly more advanced in their two-way communication offering. This means OSDP readers can both send and receive information. Additionally, the ability to encrypt OSDP communication takes its security rating to the next level.
OSDP was developed in 2008 to increase interoperability among access control products and security systems. Since then, it has grown in popularity because it offers many advanced features to protect systems from security threats.
OSDP Access Control Technologies Versus the Wiegand Technology
When comparing OSDP and Wiegand technologies, there are quite a few differences to consider. OSDP requires less cable, making it less expensive to install. It also has a user-friendly interface, making it less expensive overall. Moreover, its installation and setup are easier than that of Wiegand systems.
While Wiegand requires relatively close proximity between its card readers and access control panels, OSDP offers reader functionality up to distances of 1,200 meters — or 3,937 feet.
On one hand, OSDP can be encrypted — via AES-128 encryption — offering superior security protection from attacks. Wiegand, on the other hand, is comparatively easy to hack with Wiegand data hacking equipment easily accessible for purchase and installation. Additionally, OSDP offers integration with cutting-edge biometric readers and mobile solutions.
If you are interested in installing an OSDP system, you may want to try out Remee's Vigilance™ Access Control Cables.
Integrating OSDP with Other Protocols
One of the more convenient aspects of OSDP is its ability to integrate seamlessly with applications such as:
CCTV and alarm systems
Access control door lock systems
Emergency access control
Burglar alarms
When integrating OSDP with other protocols, you need to choose the right cables. Remee's Vigilance™ Access Control Cables are recommended for seamless integration technology with a variety of technologies and applications.
OSDP and Vigilance™ Security Cables
If you are looking for high-quality security cables, Remee's Vigilance™ line offers both standard Plenum-rated security cables and standard Riser-rated security cables.
The Plenum-rated cables, from the 725 Series, come in both shielded and unshielded versions with a selection of AWG sizes and numbers of conductors. Remguard Plenum Polymer insulation and jackets are extruded over stranded copper conductors.
The Riser-rated cables, from the 900 and R00 Series, also come in both shielded and unshielded versions.
In addition, OSP versions with water blocking tape and PE jackets are offered for direct burial.
OSDP for CCTV and Alarm Systems
For integrating OSDP with CCTV security or alarm systems, Remee Wire & Cable offers Vigilance™ Video/CCTV Series Cables. These include a selection of RG59/U Video coax cables with braid shields ideal for CCTV and video surveillance systems, as well as composite versions which include a power pair, and a direct burial option with water blocking tape. Remee Wire & Cable offers these cables in Plenum-rated, Riser-rated, and OSP options.
OSDP and Access Control Systems
Card Reader In & Out, REX (Request to Exit), Emergency Exit Door, with DSM, Horn/Strobe, and Motion Sensor Options
The ideal cables for integrating OSDP with access control door lock systems are Remee's Vigilance™ Access Control Cables. These cables are specially designed for access control technologies such as OSDP, BACnet, and Wiegand. Remee Wire & Cable offers OSDP/RS-485 composite cables in plenum- and riser-rated versions with shielding and low capacitance features, and Wiegand composite cables in plenum- and riser-rated versions, also with various shielding options and a wet location (OSP) version.
These cables integrate with various access control door lock systems, including emergency access control systems and burglar alarms.
The Continuing Evolution of OSDP Access Control Technologies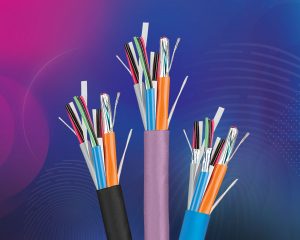 OSDP was first introduced by the Security Industry Association (SIA) in 2011 and later approved as an international standard by the International Electrotechnical Commission in 2020. The SIA also created the SIA OSDP Working Group, which communicates and exchanges information with other engineers and field experts to further the development of OSDP technology.
The SIA is dedicated to continuing the evolution of OSDP technologies to keep pace with security requirements worldwide. Having an organization focused on developing OSDP access control technologies helps to ensure that OSDP will remain the global standard long into the future.
Upgrade to OSDP via Remee's Vigilance™ Line
Regardless of your alarm, security, and control requirements, Remee Wire & Cable excels at providing cabling solutions for your security needs. If you are interested in upgrading to an OSDP system using Remee's Vigilance™ line, contact Remee Wire & Cable to discuss your unique project requirements. Remee's wire and cable experts are happy to answer your technical questions. Remee Wire & Cable can respond to RFIs, RFQs, and RFPs or send cable product samples for your inspection.