The priority of any construction trade should be the safety of the people who will occupy the space they are preparing. As a result, builders increasingly choose flame retardant and safer-burning materials for enclosed settings where people gather. This has created an increasing demand for the development of low-smoke zero-halogen cables (LSZH).
As a safe building cable option, LSZH cable allows your building, automation, and networking projects to feel safe – inside and out. LSZH cable can be beneficial anywhere there is an increased need to avoid a fire hazard.
As a top industry supplier for numerous wire and cable types, Remee Wire & Cable is pleased to provide you with various modified standard and custom-made LSZH cables for your next construction project. Within this blog, we'll briefly explain LSZH cables and how their operating characteristics and safety benefits can be used in your next project!
The History Behind LSZH Cables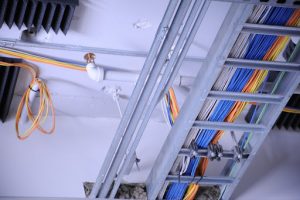 Builders initially limited the use of LSZH cable to environments where groups of people gathered indoors. But over the years, officials have updated building codes to include LSZH cable in many new construction projects.
A few decades ago, safety professionals began analyzing how chemical compounds in wire and cable reacted to combustion. Unfortunately, several fires in the UK during the 1980s produced high death tolls due to the caustic chemicals and dense smoke emitted by PVC (polyvinyl chloride) jacketing in the wiring. These tragedies brought more awareness, increased research, and product development around LSZH wire capabilities from the cable industry.
The adoption of LSZH has occurred at a slower rate in the U.S. than in Europe. Since LSZH cable costs more than PVC and other commonly used jacketing materials, builders have been known to limit its use in the U.S. to venues where they deem its use would be practical and necessary. But with safety becoming more important, as well as using environmentally friendly cable alternatives, LSZH cable is continuing to rise in usage.
What is LSZH Cable Made Of?
As you now know, LSZH is an acronym for low-smoke zero-halogen. But what exactly makes LSZH cable such a good choice for safety measures?
LSZH cable is made with a special thermoplastic jacket. The use of thermoplastic or thermosetting compounds in the jacket is what makes this type of compound exceptionally flame resistant.
The thermoplastic jacket undergoes an endothermic chemical reaction when there is a fire. By absorbing the heat energy and releasing steam when the compound reaches a certain temperature, it allows the cables to be protected.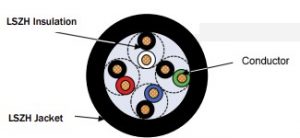 The steam dissolves into the toxic and flammable gasses that are formed by the fire and form a char layer to protect the cable. It reduces the total amount of material that could potentially allow for combustion and prevents harmful particles from being released into the air.
This allows LSZH cable to emit far less smoke than other materials. As a result, the smoke is thin and not harmful to humans, as opposed to burning PVC, which, when exposed to moisture, produces a corrosive chemical compound. It's a highly lethal combination that can destroy lungs and other soft respiratory tissue when inhaled.
What are the Benefits of Using LSZH Cable
The development of jacket materials that do not produce harmful chemicals and smoke will continue to gain significance While the performance, reliability, and flexibility of traditional jacketing materials make them indispensable in many cases, the cable industry realizes that safety concerns will always eventually override price differences.
The benefits of using LSZH cable include
Flexibility
Longevity
Low smoke producing
Maintaining the functionality of electrical devices susceptible to damage from gasses and fumes
Increased safety and protection
LSZH enjoys the advantage of being flame retardant and emitting less toxic gas and smoke when burned. Fire will not usually disable the functioning of flame-retardant cables, so LSZH is suitable for use in fire alarm cables. Whenever a project requires keeping the power on, even in a fire, their use makes perfect sense.
Technical Specifications of LSZH Fire Resistant Cable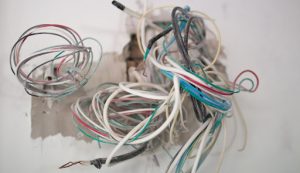 While it is good to know the benefits, the technical specifications of LSZH cables are just as important to determine the usability of LSZH cable in your project. Builders and contractors must consider whether an LSZH solution meets their project specifications like gauge size, voltage, operating temperature, and approved materials.
To help determine if LSZH should be used, use these technical features of LSZH cables:
Better tensile strength (greater than 1.2Kgf / mm2)
Improved resistance to weathering (~30° C to 105° C)
Enhanced softness (80-90 hardness)
Non-shifting (no moving morphic)
High-volume resistivity (greater than 1016 Ω / cm3)
Responds well to high voltages (up to 15 kV)
Good elasticity and adhesion
Increasingly, builders are finding codes that require LSZH cable. Once specified, the choices of what type of LSZH cabling fits a particular job come into play. It is clear to see the numerous benefits (technical or other) of LSZH cable.
Yet, no industry standard is in place that dictates when the extra cost of LSZH cable is warranted. Developers sometimes have difficulty determining when LSZH wire is justified or if the project is better suited for traditional wiring.
At Remee, our team of cable experts understands the nuances involved when deciding whether or not selecting LSZH makes sense for your project. We're here to assist you in making those decisions when it's not clear if you need to use LSZH wire or another cable option that we supply.
Which Industries Use Low Smoke Zero Halogen?
Sometimes it's obvious when to use LSZH cable for certain safety requirements. You can typically justify its use anywhere people gather in enclosed areas. Great examples include:
Underground railways
Hospitals
Schools
Sports arenas
High-rise hotels, apartments, offices
Data centers
Nuclear power stations
Aerospace, railroad, and maritime institutions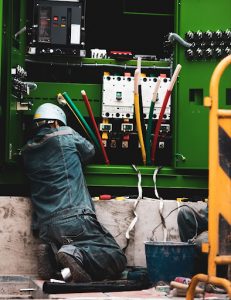 Additionally, cable manufacturers can combine different materials to create various attributes. So, in addition to LSZH, there are also fire resistant cables with characteristics such as:
LSF: Low smoke, fume
LS: Limited smoke
FRLS: Fire-resistant, low smoke
NHFR: Nonhalogen, flame retardant
HFFR: Halogen free, flame retardant
FRNC: Fire retardant, non-corrosive
RE: Reduced emissions
At Remee, we understand some jobs require creative solutions. This is why part of our services include custom cabling options. Whether for LSZH cables, or other choices from our extensive cable toolbox, Remee can suit your custom cable needs. See our full list of materials and capabilities to understand just how dedicated we are to providing top customer service.
Choose the Leader in LZSH Cable Manufacturing, Remee
As the industry leader in wire and cable manufacturing, we understand that our customers come first. This is why Remee provides standard and custom cables to deliver specialized products that fit your particular needs, including LSZH cable jacketing solutions for a wide range of cables.
Being one of the top suppliers in the country, we offer multiple configurations, composite constructions, and a variety of shielding and jacket coloring/striping options for our cables. Whether you need a short order for one for volume, Remee is staffed with knowledgeable and trustworthy people to get your order delivered as fast as possible without losing quality.
Established in 1972, Remee continues to maintain a high degree of excellence in its products and services. When you choose Remee, you choose a fellow partner with years of industry experience.
Contact us today to get your LSZH cable order started!
Sign up for our biweekly Remee Signals E-newsletter for important news, product announcements, industry trends, and tips of the trade.